<![if !IE]> <![endif]>
I.De.L. SRL
Via Giacomo Matteotti 1992
51036 LARCIANO (PT)
Italy
List of product entries
This exhibitor shows the following products and commodity groups:

Product emphasis
Garden Equipment & Sheds - Garden equipment

Target and sales markets
Australia
Brazil
Canada
China
Colombia
East Africa
India
Japan
Mexico
Middle East
New Zealand
North Africa
Northern Europe
Others Central America
Others Eastern Europe
Others Oceania
Others South America
Russia
South Africa
South East Asia
Southern Europe
Turkey
USA
West Africa
Western Europe

Company & products
Products
Beautiful and functional at 360 °!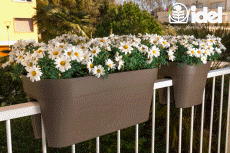 The new PBack Box SWS 58 and 30 represent the perfect solution to fully enjoy the beauty of blooms on your all-round balconies!
Their particular design allows them to be positioned "astride" the parapet, thus eliminating the numerous structural and aesthetic problems created by classic iron supports such as rust, which deteriorates the structure by ruining the railing, and the impossibility of adjusting the support achieving the desired stability.
The SWS water reserve system allows for optimal drainage and, depending on the amount of water present in the reserve, guarantees a period of constant hydration at the roots of the plant.
The raw materials used for the production of these items is of high quality; break-proof, resistant to high and low temperatures and UV rays.
MEGALOS
MOSAIC FLOWERBOX HIGH 80
MOSAIC FLOWERBOX HIGH 80
???????????? ?????????? ???????? ???? + ????????
Classic Matte line